EMS TRINITY KNOT/ TRIQUETRA PIN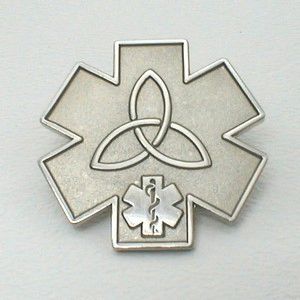 EMS TRINITY KNOT/ TRIQUETRA PIN
This Trinity Knot
Pin was first produced from our Irish heritage.
In contemporary Ireland, it is traditional for a man to give a loved one a trinket such as a necklace or ring signifying his affection towards her. The triquetra, also known as a "trinity knot," is believed to represent the three promises of a relationship such as to love, honor, and protect, and can be found as a design element on Claddaghs and other wedding or engagement rings
This is a limited edition Trinity Knot EMS provider pin.
The pin size is 1.25" square and has a military clutch fastener.
Item is an exclusive product only available here