BARACK OBAMA INAUGURAL PIN 2009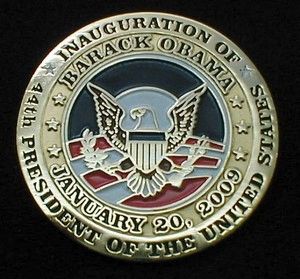 BARACK OBAMA INAUGURAL PIN 2009
President Barack Obama Inaugural Pin 2009 Limited edition
*Pin is Die Struck Iron soft enamel pins in a 1 3/8 inch diameter size with one military clutch back
The American presidential inauguration occurs every four years The new president gets his own day of feasting, procession, statesmanship, and celebration. The United States marks its transition of government with a day of events that have developed over time to become our modern-day inauguration. The theme for the 2009 Inauguration of Barack Hussein Obama is "A New Birth of Freedom," which honors the bicentennial of Abraham Lincoln's birth.
"A New Birth of Freedom" commemorates the 200th anniversary of Abraham Lincoln's birth. The words, echoing across 200 years from Abraham Lincoln's Gettysburg address, express Lincoln's hope that the sacrifice of those who died to preserve the United States would lead to "a new birth of freedom" for the nation.
Barack Hussein Obama II ( born August 4, 1961) is the President-elect of the United States. The first African American to be elected President of the United States, Obama was elected to be the junior United States Senator from Illinois in 2004 and served until his resignation on November 16, 2008, following his election to the Presidency. His term of office as the forty-fourth U.S. president will begin on January 20, 2009.